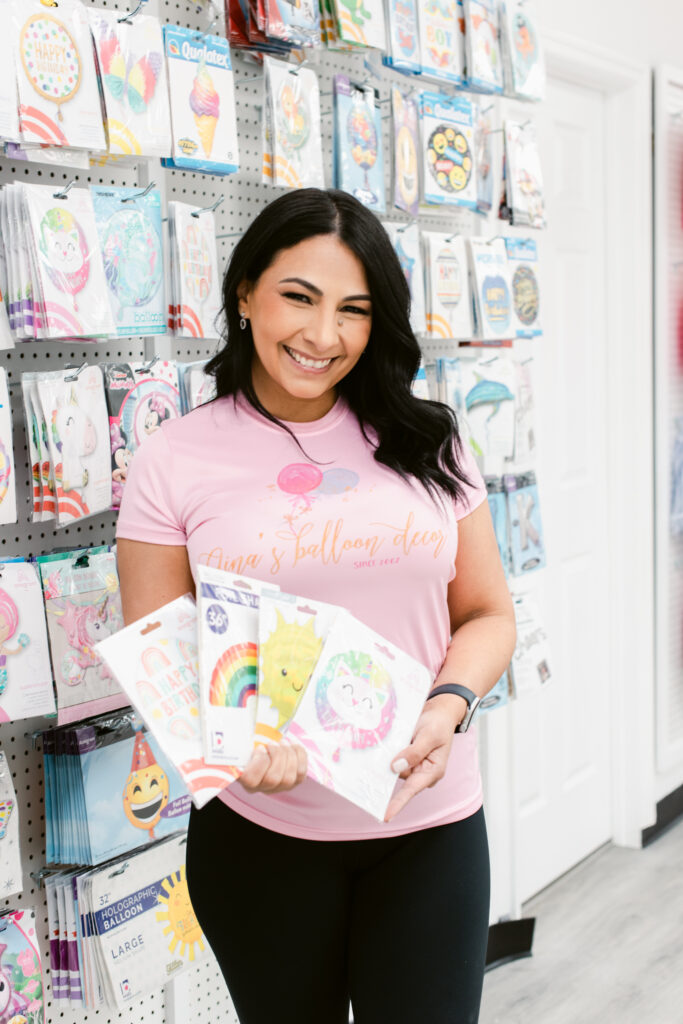 Hi! I'm gina
I'm Gina Rivera, the owner of Gina's Balloon Décor. I'm the only certified balloon artist (CBA) in Huntsville, AL. This means, I've taken and passed tests – both oral and practical exams – from the world's leading balloon manufacturer to demonstrate my knowledge of industry standards.
Why does this matter to you? Well, I can fit my decor into unique spaces, and it stays secure. (For example, if you don't want the balloons to blow away during your outdoor event, I'm your gal!) I know which balloons and colors are best for outdoor events to lessen the chances of them popping. I understand the importance of customer service and how to create a unique, one-of-a-kind design for your event. To sum it up, I know balloons because I've studied them!
This business started by decorating for my oldest son's 1st birthday party! With a degree in graphic design and a mom who loved interior design, art was always an important part of my life. And as a native Puerto Rican, I was raised to celebrate milestones in fun, colorful, lavish ways.
Truthfully, though, I never saw myself as an entrepreneur.
But after loved ones continued to rave about the birthday party decor, I felt inspired and encouraged. I started creating balloon designs for small events hosted by my friends and family.
And before long, I had a thriving side hustle.
It was 2007, and I applied for my LLC in Puerto Rico for Gina's Balloon Decor. But, I was juggling a lot at this point – a side business, two small boys and a full-time corporate career.
I had to make a decision. Keep my corporate job – a steady paycheck and benefits – OR become an entrepreneur – which I never thought I'd be and there were so many uncertainties.
Well, you know what I chose because you're reading my website.
In 2009, I quit corporate and made Gina's Balloon Decor my full-time job.
Not a side hustle. But an all-in, full-time business!
In fact, Gina's Balloon Décor celebrated 15 YEARS IN BUSINESS in April 2022. 🎉
Even through the craziness of 2020 and 2021, my business continued to thrive. This is thanks to my loyal customers in the Huntsville, AL area, which I've now lived in for over 7 years. (If you're one of them and somehow landed on this page, consider this a big virtual hug from me. 🤗Thank you!)
special dedication
my mom
I can't end this section without mentioning my mom. She was my light, and I miss her desperately still now. My mom played a huge part in inspiring me and encouraging me to step into this business. I wrote about her here.
Thank you for reading. I hope we can partner together to make your event extra special. 🎈
You dream it, and I make it happen. From balloon design to installation to clean up, I do it all. And it starts with sharing details about your party on this inquiry form.
Follow me on instagram