Making outdoor decor is not the easiest job. It can bring all sorts of challenges —rain, wind, heat, plus many other potential obstacles, especially during May, June, July, August, and September, when the temperatures rise over 80-85 degrees. With a little care and planning, we can overcome most of these.
Sun and heat
When planning to position balloon decor outside on hot sunny days, you need to be aware of several factors.
Balloons will swell/expand in the heat. If it's super hot, then be sure to know the balloon may POP if they are directly under the sunlight for more than 2-3 hours.
Darker balloon colors (black, greens, blues, etc.) will absorb heat and pop faster.
Balloons will oxidize and lose their shine. This is not a bad thing; it merely changes the visual texture of the balloon. The balloons will look more "velvety" and acquire a rich, matte finish. I can apply a special balloon shine upon request (extra fee apply) although I do not recommend on direct sunlight exposure! ☀️
How long will my balloon decorations last?
Air-filled latex balloons do not float, however, they have the advantage of generally having a longer life-span than helium-filled balloons. Air-filled balloons can last several days, even weeks, when they are indoors.
Exposure to ultraviolet light and air
Latex balloons are made from pure latex rubber, a natural, biodegradable substance. As soon as a latex balloon is exposed to daylight or air, the balloon's life countdown begins. During winter, if possible that the balloons can last outdoors for more than 2-3 days. The cold weather is not bad for balloons. This is not the case when balloons are placed outdoors during the summer. Your outdoor balloon installation will look good for the day of your event. Balloons will swell/expand in the heat. If it's super hot, then be sure to know the balloon may POP if they are directly under the sunlight for more than 2-3 hours. Placing the balloons under a shaded area is the best to prevent this happen.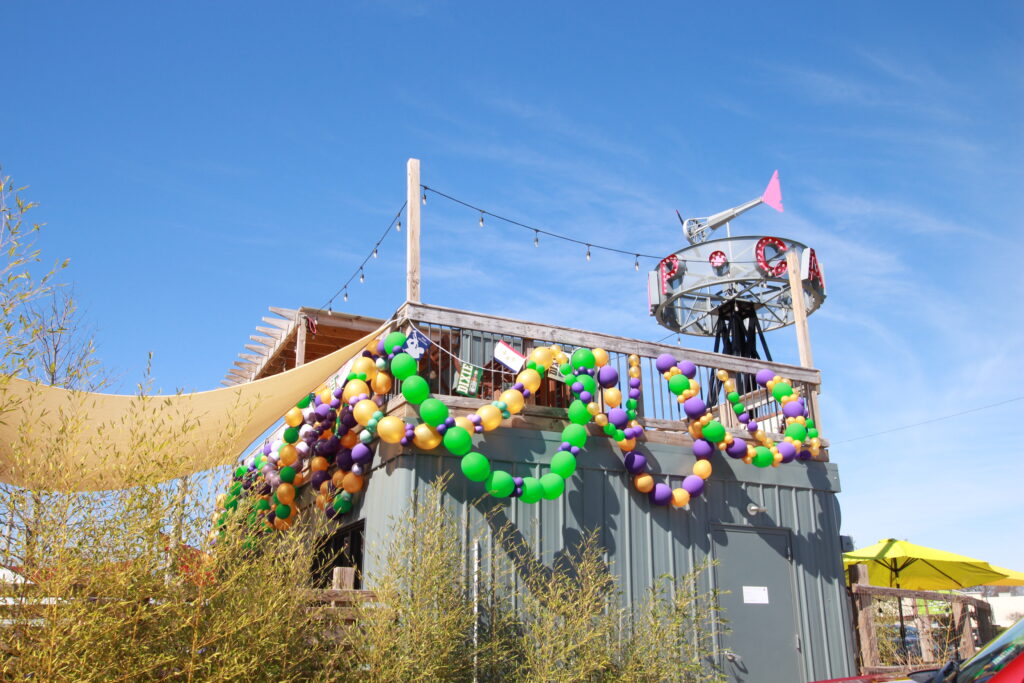 Gina's Balloon Decor uses only the highest quality balloon products and makes every possible effort to ensure that your décor will meet or exceed your expectations. However, due to the general nature of balloons, I cannot guarantee that your balloons will remain perfect and intact when used outdoors.
Here are a few things to consider when using balloons outdoors — especially outdoors in the summer heat.
If you can have the balloons set up indoors, or under a shaded area, this would be great.
If the balloon setup is outdoors, under the sunlight (because you will take the risk), I recommend making the installation 1 hour before the event start.
Outdoor balloons work best for morning events before the temperature is over 85 degrees.
You need to use the lightest colors you can, this is the best option and they last longer; they reflect the sun and fade less – dark blues, dark greens, and blacks are always the first to go. Dark colors will change their color dramatically. Black will show off white patches. It is rare, but it happens when they are exposed to high temperatures.
Please know that once I set up your design, I will not return to replace popped balloons. Mother nature cannot be controlled therefore, I won't attempt to control her.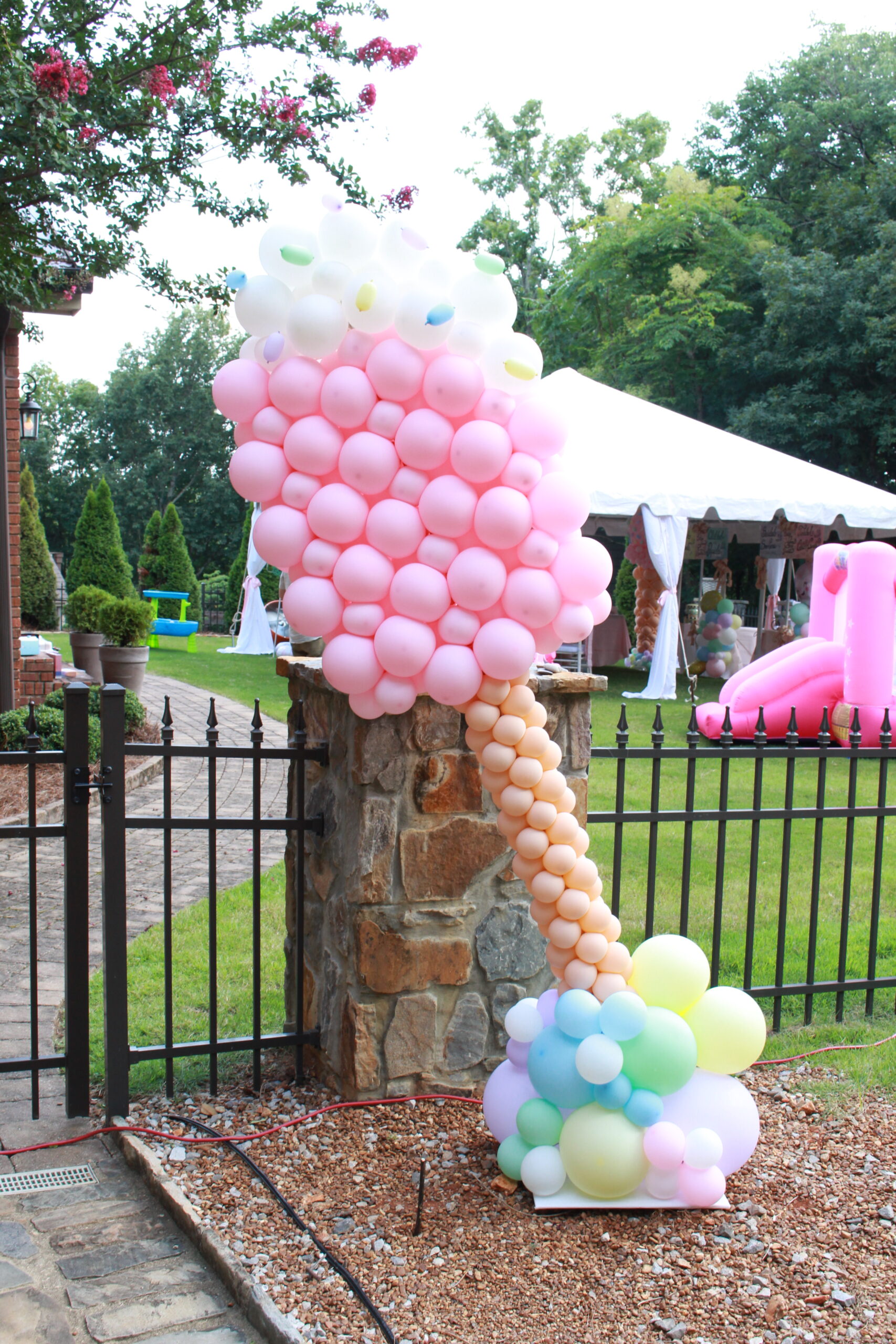 What designs can I recommend for your outdoor event?
Arches
Balloon arches withstand most weather conditions pretty well. Gina's Balloon Decor only uses The AeröPole System™ for outdoor arches. This system was designed to make huge arches and columns for both outdoors and indoors, without helium. The poles made from a composite fiberglass material are so flexible they do not break in strong winds. There is no other product on the market that performs like the AeroPole System.
Organic Balloon Topiaries
Our signature "wind resistant" balloon topiaries are a great way to celebrate birthdays and guide people to the party. No more tangled balloons tied to mailboxes. Our organic balloon topiary is about 7-8′ ft. tall and include balloons in different colors and sizes. They will be delivered beautifully decorated with a foil fringe or satin ribbon. These are available in the colors of your choice. Our balloon topiaries can be used outdoor or indoors to decorate your living room, your foyer, or any other space inside your house.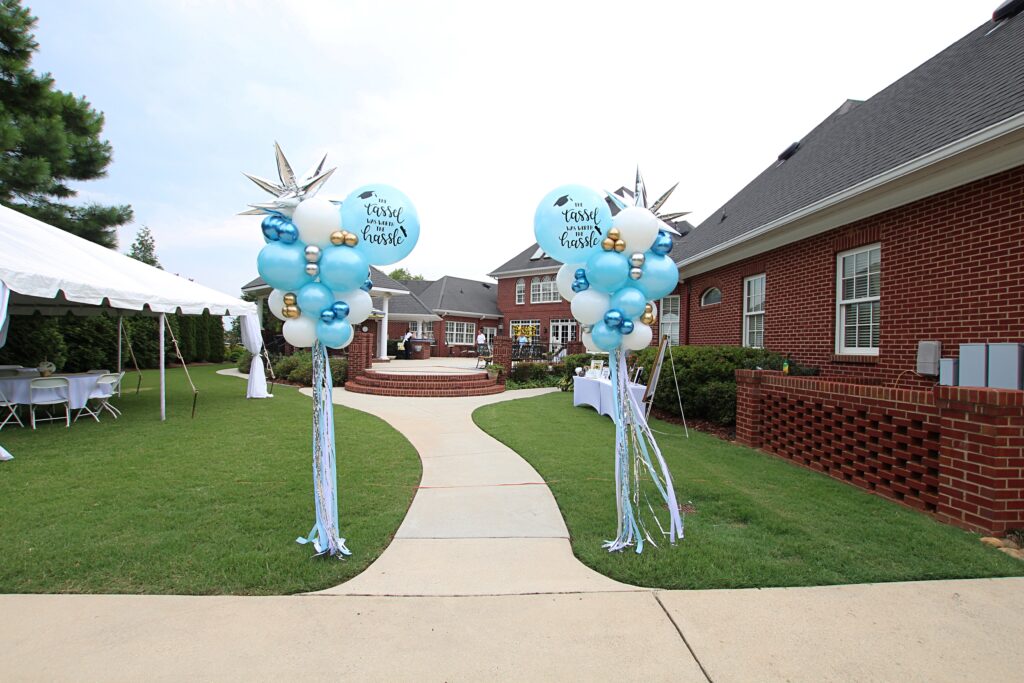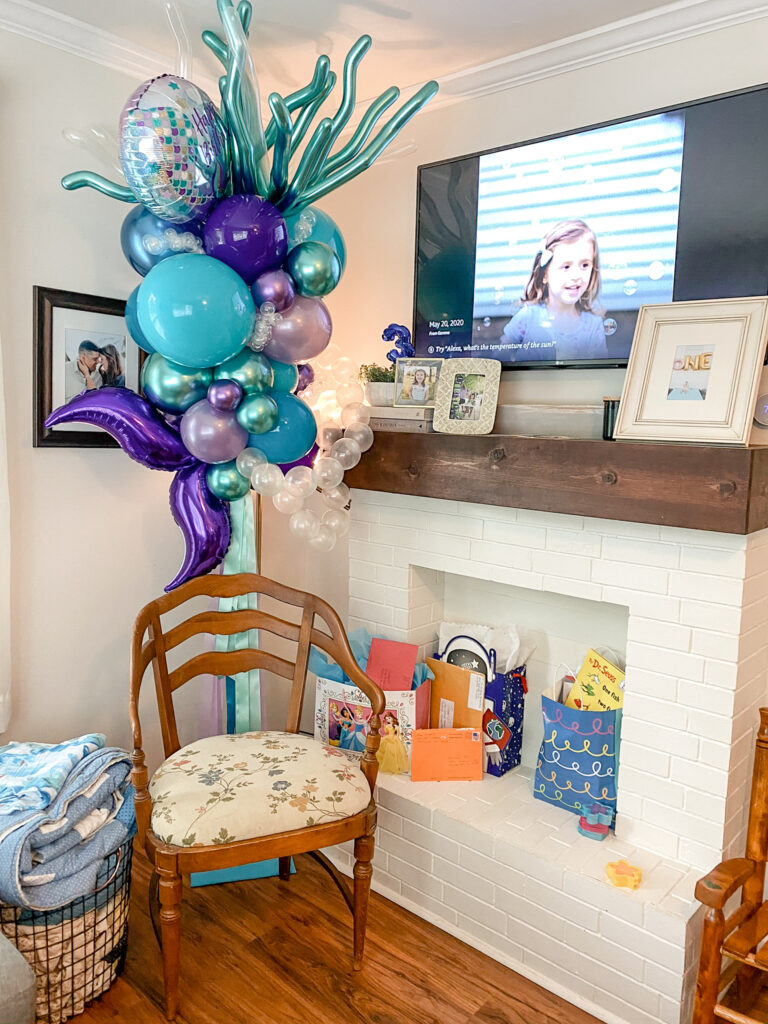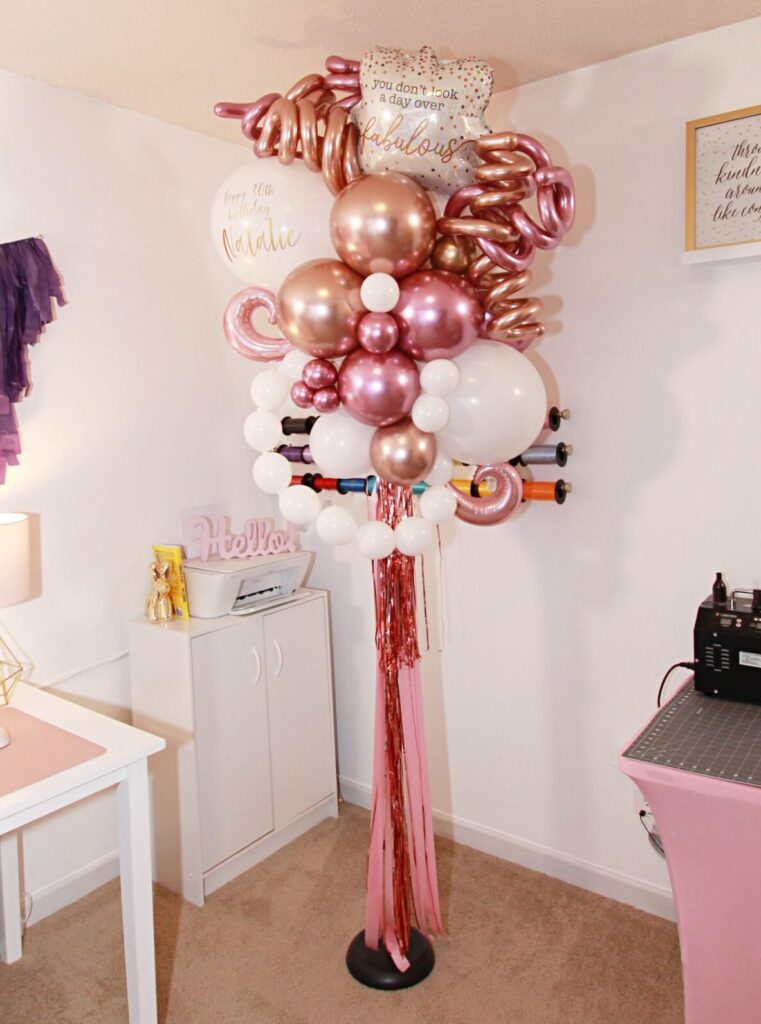 Organic Balloon Garlands
Organic balloon garlands can take any party to the next level! Add color and texture to your next event, whether its a birthday party, baby shower, bridal shower or wedding. Balloon garlands will add pops of color and a touch of whimsy. These beautiful garlands are perfect for indoors or outdoors.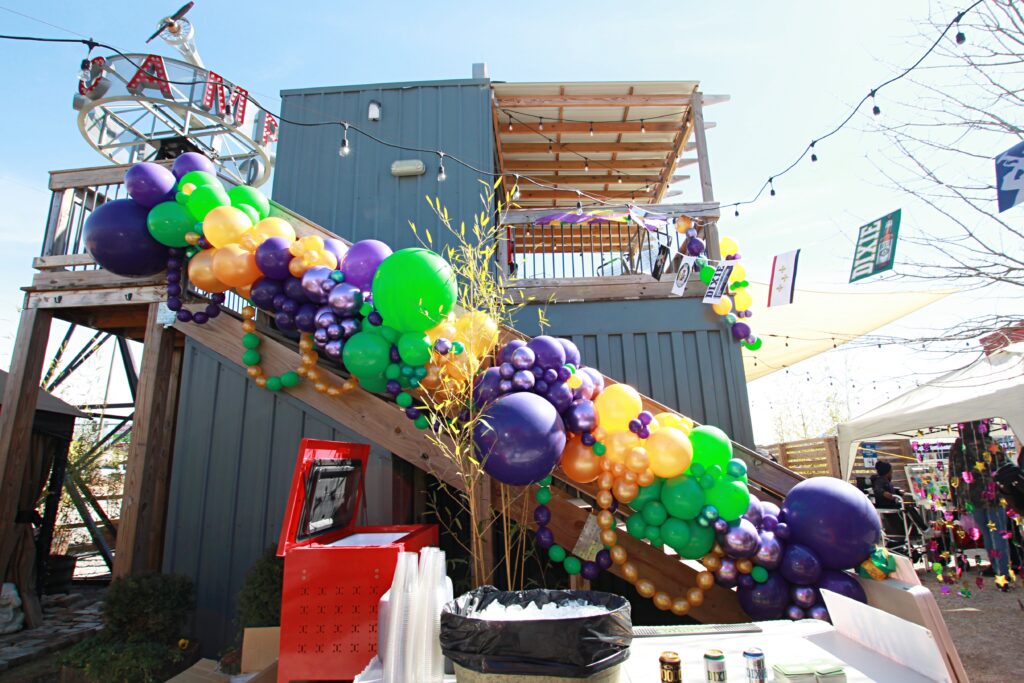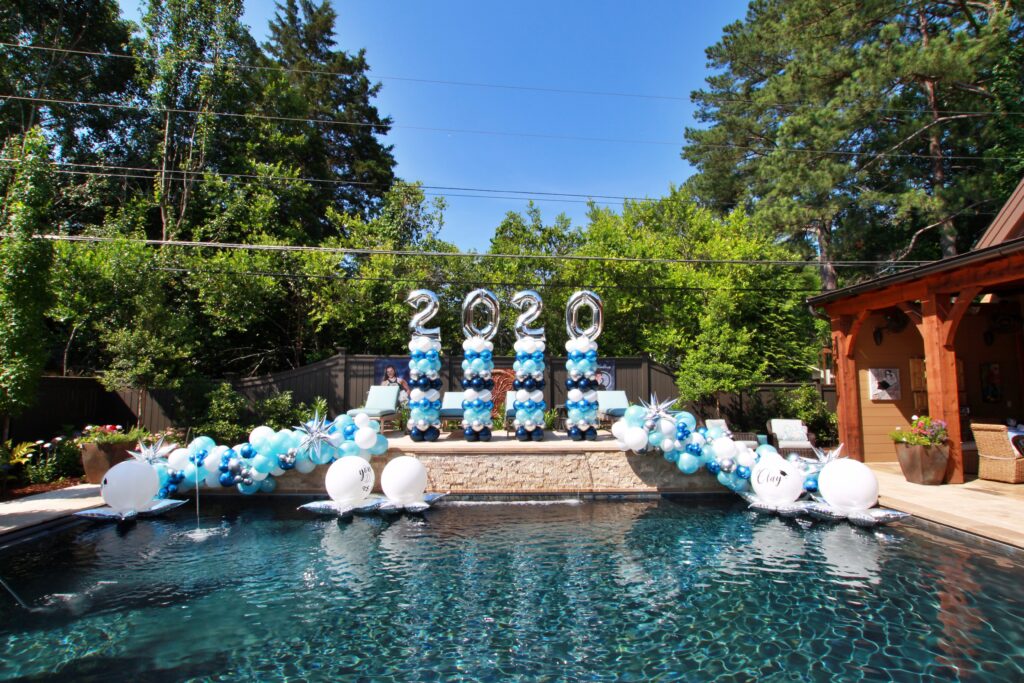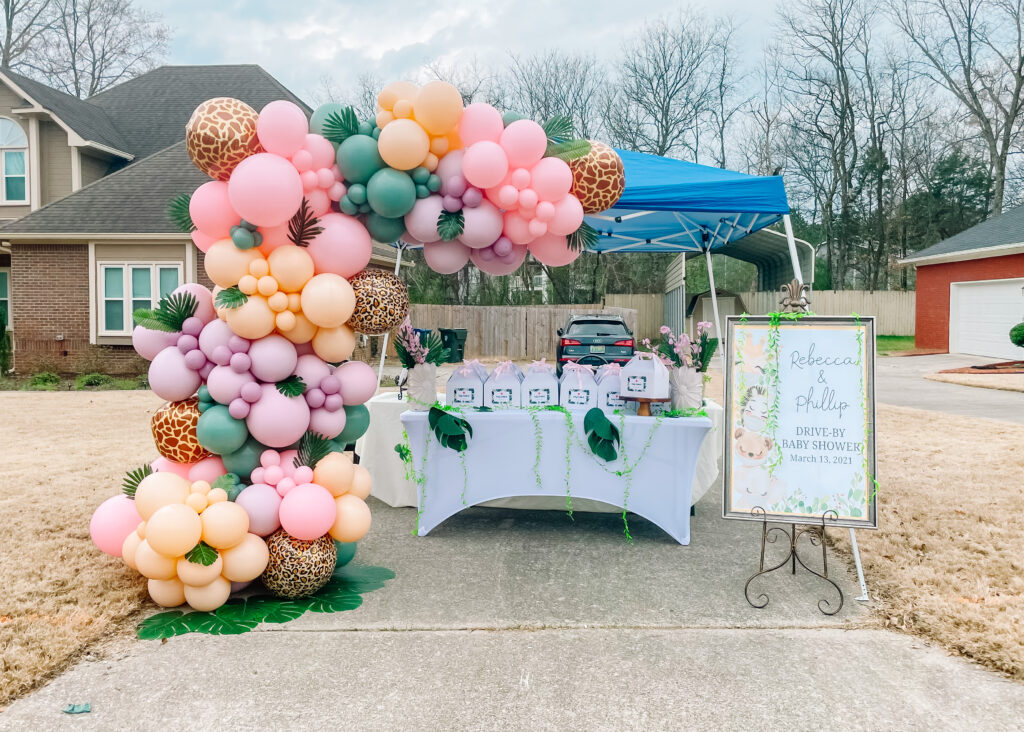 A big no-no!
Helium balloons or helium balloon bouquets will look great inside. Still, if you add wind or even a breeze to the scenario, your beautiful balloon bouquets will be blowing around and getting all their ribbons twisted. In the worst-case scenario, they may hit the table, hit the person sitting at the table in the face, hit the fence or the wall, and may even POP!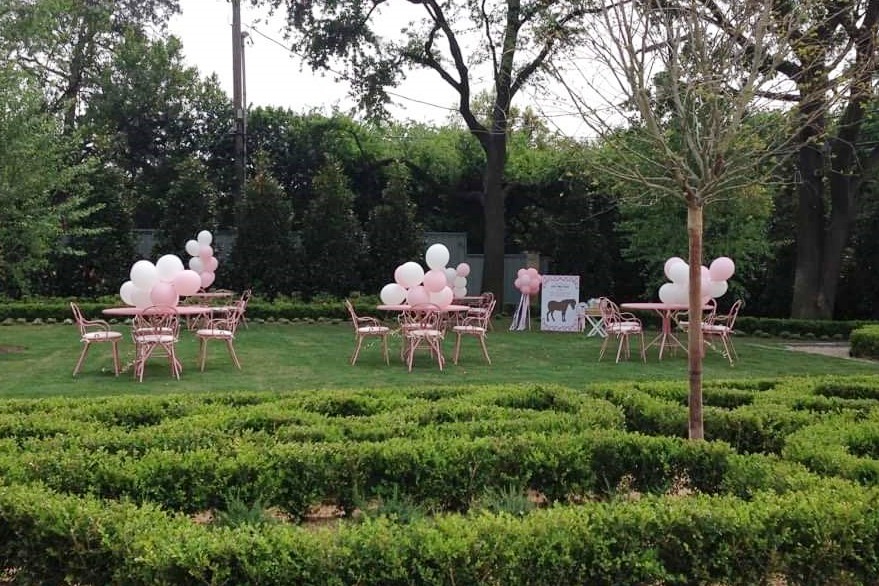 Ready to get started with balloons?
Click here to complete our Request Quote form. It's the first step, and it's free!